Varje år skickas det ut miljontals tweets som rör Oscarsgalan. 2020 diskuterades till exempel Eminems oväntade uppträdande och Timothée Chalamets minst sagt avslappnade look.
Och i år, vad snackades det om då? Här har vi samlat några av de roligaste och mest träffande inläggen på Twitter 2021:
Daniel Kaluuyas udda tacktal
När Daniel Kaluuya vann pris för bästa biroll chockade han många genom sitt tacktal. Han berättade nämligen att hans mamma och pappa haft sex, och beskrev det som "otroligt". Därefter kommenterades hans mammas ansiktsuttryck flitigt på Twitter…
Amanda Seyfrieds klänning stal fokus
Amanda Seyfried fångades på bild flera gånger under kvällen. Eller ja, i alla fall hennes voluminösa klänning… Något som roade internet.
I am distracted by the enormous skirts of Carey Mulligan and Amanda Seyfried, which are visible in every camera pan. Presume they were saved from having to change for the sitting-down part of the #oscars evening by the current social distancing rules.

— Vanessa Friedman (@VVFriedman) April 26, 2021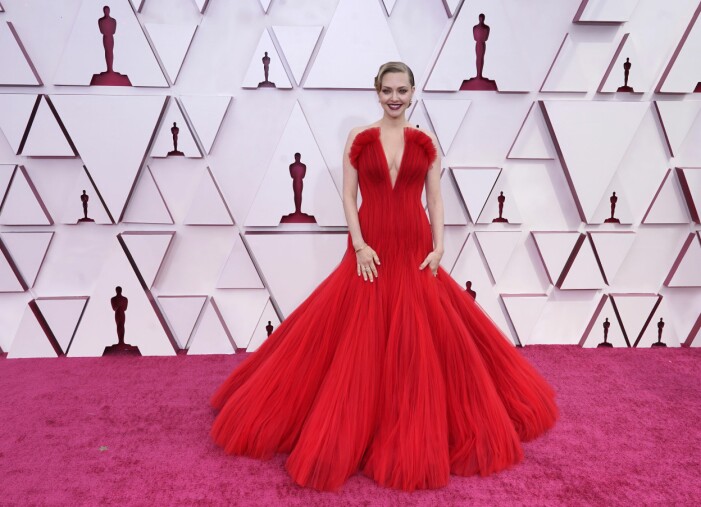 Zendaya eller Cher, Cher eller Zendaya?
På tal om klänningar… Enligt många på Twitter påminde Zendaya om Cher, vad tycker du?
Brad Pitts hästsvans fick fansen att jubla
Under kvällen engagerade Brad Pitts hästsvans en hel del på sociala medier. Hiss eller diss, det beror på vem du frågar... Men reaktionerna var överhängande positiva!
Just when I thought I couldn't find Brad Pitt more attractive, he shows up to the Oscars with a mustache and ponytail

— ann (@annnniethuy) April 26, 2021
Riz Ahmeds romantiska gest på röda mattan
När Riz Ahmed fixade håret på sin fru, Fatima Farheen Mirza, smälte Twitter. Romantiskt, eller hur?
Glenn Close tolkning av Da Butt
Den 74-åriga skådespelaren Glenn Close bjöd minst sagt på show när hon dansade loss till låten Da Butt… Något som uppskattades av många!
Not Glenn "shout out to da butt eu, backyard band and DMV" Close

— Samhita-Lo (@TheSamhita) April 26, 2021
glenn close better win an emmy for this at the very least

— hunter harris (@hunteryharris) April 26, 2021
Foto: TT